Great teas don't blend themselves. It takes skill and time to master the art of tea making.
At Morihan we accept only perfect ingredients and unsurpassed quality control at every stage of production in our efforts to provide consumers with the best possible tea.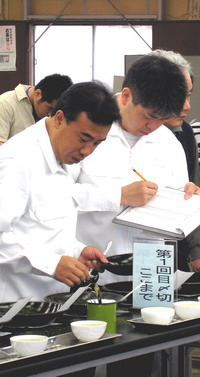 Overseeing this process we have one of Japan's greatest Tea Masters. Masaru Kikuoka has been with Morihan since 1982.
Masaru has, through natural ability and extraordinary effort, become one of Japan's greatest cup tasting masters.
Twice winner of the first prizes for the national cup tasting skills tournament

and prizes from Minister of Agriculture, Forestry and Fisheries in 1998 and 2002
Our Master of Tea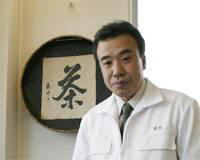 Watching Kikuoka san in action, whether at auction or teasting up to hundreds of tea cups a day in an extraordinary experience. Masaru san can determine where tea samples are from and how they are manufactured just by their look and smell
training to become a Tea Master is long and demands complete commitment. Becoming a true Tea Master is a lifetime's work and the training process is never really completed.
Morihan, Kyoeiseicha Co. Ltd., Seyama Building 5F, 5-1-1, Nishi-Tenma, Kita-ku Osaka 530-0047 Japan
copyright@morihan 2006 email: info@morihan.com